Staff Development Overview
News stories and statistics show that nearly 50% of all new teachers leave the profession within the first five years and teacher follow-up surveys show that apart from retirement, family and financial issues are the top two reasons for leaving. Why then should educators continue doing what they do?
Dan has an answer! For several yeas now, teachers and administrators have thoroughly enjoyed Dan's message for the students and have asked if he would consider doing something geared for them… Now he has!
Dan's Programs
MAKING A DIFFERENCE 1 STUDENT AT A TIME:
This 30-minute inspirational presentation is designed for the school staff either before or after the school day. Has staff morale dropped? Has the genuine enthusiasm among the faculty disappeared? Have a lack of resources or unrealistic expectations become a deterrent? Don't settle into the murky waters of mediocrity but continual to invest in the lives of the students. Dan's message will speak life and encouragement to the staff and help rekindle those flames of passion for teaching and making a difference like never before.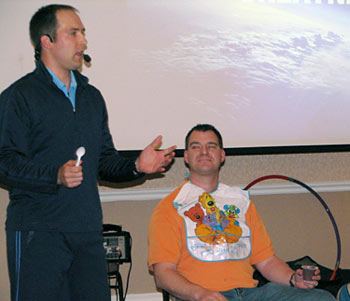 Testimonials
"A very powerful message that made me think of quite a few things I thought I was doing right that now I am changing. Thank you for a great message!"
Melody Sundbakken
PTA President
Bel-Air Elementary (Minot, ND)
"Dan, thank you very much for your excellent presentation during the fall in-service workshop for the Anne Arundel County Public Schools elementary and middle school physical education staff. Your ball handling expertise and inspirational messages were outstanding."
Richard A. Wiles
Coordinator - Health, Physical Education, and Dance
Annapolis, MD